If you follow pedestrian vs vehicle accidents in Nashville - you will see a trend.
Language such as:
'probably won't face criminal charges'
'police say pedestrians should be sure to look both ways before crossing the street'
'no one has been charged'
'the driver of the car was cited for driving without proof of insurance by Metro Police' (as the only statement of charge despite having struck a pedestrian).
The language, often found at the end of a media report on the accident, implies that there is no penalty if you hit a pedestrian.
Driver charged in pedestrian crash that killed Hume-Fogg student
In December, Elena Zamora, a 17 year old junior at Hume-Fogg in Nashville, was walking east to west on Church Street in a crosswalk at 1 p.m. when she was struck and killed by a tractor trailer that was turning right from Church Street onto Rosa L. Parks Boulevard.

Despite the law that states that turning vehicles are to yield to pedestrians.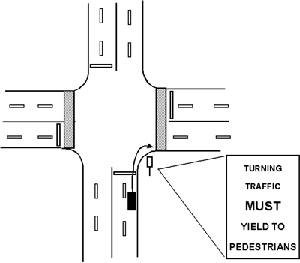 Ms. Zamora was walking essentially where the arrow points in the diagram above. The black rectangle represents the truck that struck her.
The driver, Troy Devitt, 45, of Florence, AL,
told officers he didn't see the pedestrian in the crosswalk. Metro police announced Thursday that Devitt was booked on a charge of failure to yield right-of-way.
Zamora had the signal to walk, and the truck had a green light.
Despite it being mid-day, the driver 'didn't see' Ms. Zamora. Just for a moment consider, too, the charge of 'failure to yield right-of-way' instead of a much more serious charge. When you read these reports closely they give a strong impression that Nashville doesn't really care about the rights of its pedestrians. As our city grows, this is going to have to change.
Creating a culture in Nashville that is safe for pedestrians also means ticketing those who
infringe on the rights of pedestrians.
If it is known that there are strict penalties against drivers for injuring pedestrians it could detour accidents and instruct drivers to be cautious rather than cavalier.
Instead of the media stamping 'no one was charged' at the end of most reports of pedestrian vs vehicles maybe there could be an investigation & heavy penalty.
After all, pedestrians have the right-of-way.
Sources: