Took a long walk today as I am want to do and noted something…You see the bumper stickers that say, 'Give them 3 feet' referring to bicyclists but what are the rules for pedestrians?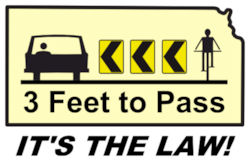 A simple walk ~ a 4 mile loop from my house to Green Hills and back, taking about an hour and a half, requires me to walk on a lot of roads that lack sidewalks.
In these situations, a pedestrian is supposed to walk against traffic which allows for some waving to help the drivers see you.
Many drivers respectfully move over but many do not.
A quick search yields little. I am going to assume the law states that a driver needs to give a bicyclist AND a pedestrian 3 feet by law.
If anyone knows the law on this issue - please let me know.
thesidewalkfoundation@gmail.com