On a day where walking in Nashville is actually easier than driving, the chronically underfunded Strategic Sidewalk Plan for Sidewalks has been on my mind.
The Strategic Plan was created in 2003 after the city of Nashville was sued for being out of compliance with The Americans with Disability Act. Due to our loss in regards to the case, plans were created to right our poor quality walkability/accessibility. In 2008, the plan was updated after laying fallow.
As Nashvillians know, we have talked a lot about building new sidewalks over the years but we have never truly funded them making these plans an act of exercise. We have funded large projects: Music City Convention Center, the baseball stadium, etc but no significant money has been put into sidewalks.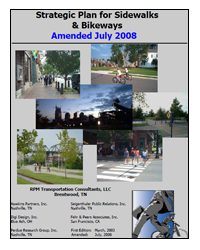 Yet again, the Strategic Sidewalk Plan for Sidewalks is again being considered for an update. Things haven't changes so much - we still have a very poor walkability, high level of pedestrian deaths, and a culture of driving. In the Strategic Plan, in Appendix H, there is are lists of response to select questions. It highlights how little has changed! In this regard, I am highly suspicious of updating the plan if we are not going to also mandate the funding.
Public comments collected from 2002 (note: it is 14 years later!!!)
during the creation of the original Strategic Plan:
What do you see as obstacles to pedestrian travel within Metro?
Lack of motorist education

Sidewalks that do not connect

Obstructions on sidewalks

Sidewalks that are not accessible

Sidewalks that are not maintained and that are in poor condition

Lack of regulation and lack of enforcement of existing regulations

Lack of animal control

Lack of street crossing facilities

Motorists who turn right on red

Parking lots that are too close to roadways and block the sidewalk

Unsafe sidewalk facilities (crime)

Lack of a buffer between sidewalks and roadways

Stormwater drainage

Ditches

Traffic

Incomplete/missing sidewalks

Lack of design standards for mailboxes
Sound familiar?