'Stacy - yes the 33 miles is new' from Jenna Smith, who is so kind in answering my many, many questions, at Public Works.
Since 2008, when the updated version the Strategic Sidewalk Plan for Davidson Co was released, Public Works is calculating that they have created 200 new miles of sidewalks.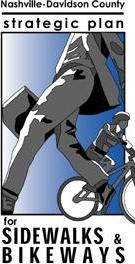 The next natural questions is: WHERE?
And, for me, are these sidewalks high quality? Are they usable? This is going to take a few days to figure out but I will reporting on this issue over the week.
If the ratio of sidewalk to roadways has increased to 0.45:1, as reported in The Tennessean (see link below) that still means that in our urban service district, less than one half of our roadways with a sidewalk on just one side.
Noted that this is in Nashville's URBAN service district - our area of highest density has less than 1/2 the roads with a sidewalk on only 1 side.
As much as I applaud the Mayor's Walk 100 Mile initiative - I feel strongly that you have to create safe places for Nashvillians to walk. In particular,

we have to create safe places for people to walk so that they can accomplish their typical errands on foot.

Driving to a Greenway to then exercise has its pluses but also has huge minuses.
This year, 11 pedestrians have been killed by drivers in Nashville. By comparison, only 1 bicyclist has been killed in the last 5 years.
We need to build high quality well designed sidewalks with pedestrians in mind. They need to be safe, comfortable and inviting.
Sources:
http://www.tennessean.com/story/news/2014/08/23/nashvilles-lack-sidewalks-sparks-angry-campaign/14509885/
http://mpw.nashville.gov/IMS/Sidewalks/
http://www.nashville.gov/Public-Works/Capital-Projects.aspx
thesidewalkfoundation@gmail.com
https://www.facebook.com/shadeparadenashville